GRANT PAVER SEALING DONE RIGHT, THE FIRST TIME
Paver Sealing uses equipment specifically designed to quickly and evenly seal various surfaces. Even though they are fairly maintenance free, driveways and sidewalks can still become very dirty and discolored. They are also severely affected by salt and snow, acid rain, moisture and high temperatures. Professional paver sealing services can make dramatic improvements to the appearance of your driveway and sidewalk. With our unique paver sealers which penetrate your existing surfaces, you can protect it from the damaging elements and form a barrier that keeps even oil from penetrating. Simple Washing's paver cleaning and sealing service is the answer to your surface needs.
STEP 1 – CLEANING
Application of Algicide & Commercial-Grade Degreaser
Pressure Washing Using Commercial-Grade Cleaner
Deep Cleaning of Paver Joints
Efflorescence Treatment
Efflorescence Removal
Thorough Cleaning Inspection of Pavers
STEP 2 – WET SANDING
Application of Clean Anti-Algae Sand inside Joints
Wet Sanding technique to ensure proper sanding compartment
Inspection to Assure Proper Sand Height in Joints
Final Sanding Inspection
STEP 3 – PAVER SEALING
Sprayed Application of Premium Deep-Penetrating Flood Coat
Inspection of Consistent Coat
Application of Final Premium Coat
Final Sealing Inspection & Approval
Our Paver Sealing Process In Grant Florida
BENEFITS
OF PAVER SEALING
Inhibits weeds and grass in joints
Reduces moss growth
Deters ants and other insects
Prevents loss of sand in joints
Helps repel oil, grease, grime and stains from pavers
Enhances color, texture and brightness
Easier routine cleaning
Resists the effects of Brevard Counties harsh weather conditions
Provides protection from salt damage
Reduces surface deterioration and wear
Assures long lasting beauty and value
Prevents pavers from shifting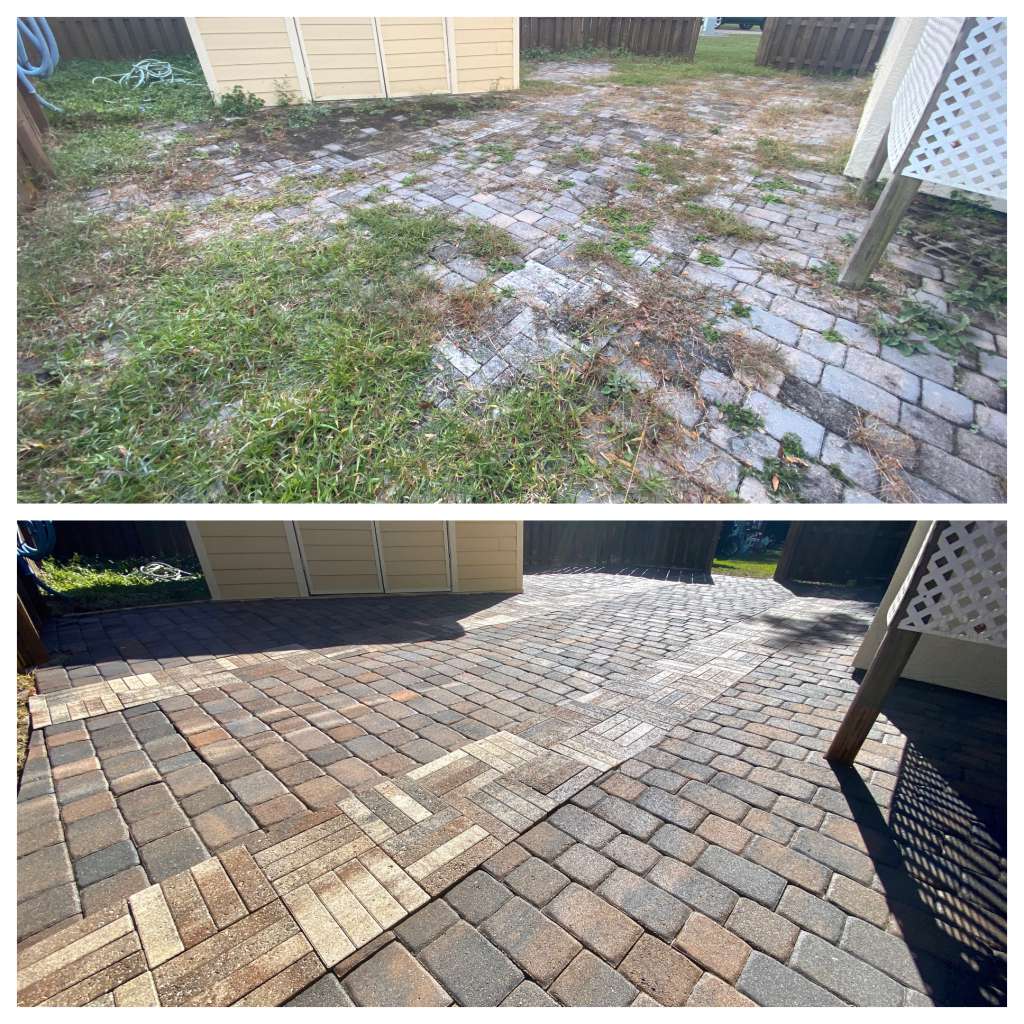 Why Choose Us For Your
Grant Paver Sealing N

eeds?

 
#1 Rated with over 230 5-star reviews on Google
Google Guaranteed Certified
Licensed – Insured – Bonded
100% Satisfaction Guarantee
Environmentally Friendly
All Work Comes With Our Warranty
We Have NEVER Had A Unsatisfied Customer!
Veteran & Family Owned
LOOKING FOR PAVER SEALING SOMEWHERE ELSE?
Common Questions You May Have
Q: Why should I seal my pavers?
A: Pavers are sealed for protection, enhancement & ease of maintenance.
Q: My pavers were just installed. How long do I need to wait before I can seal them?
A: Generally 30-60 days after manufacturing, but it really depends on the type of pavers you have and the extent of efflorescence present in your pavers. Also follow the recommendation of the paver manufacturer.
Q: How long does the process of cleaning and sealing take?
A: Usually 1-3 days but it depends on the product used and conditions. However, with our Product cleaning and sealing may be done in one day!
Q: I have a white haze on my pavers and they have not been sealed. What can I do about this?
A: During our sealing process, our efflorescence remover is the appropriate product for this situation. Efflorescence is a white deposit sometimes left behind on top of the paver during the curing process.
Q: I have sprinkler rust on my pavers. How do you get this off?
A: We utilize a product that neutralizes the iron/rust and is a safe appropriate product for this stain.
Q: How can you tell if you need to reseal your pavers?
A: A simple way of telling if your pavers need resealing is to run water on the pavers. If the water is immediately absorbed it is time to reseal. Generally, it is recommended to wait a minimum of 18 months before resealing.
Q: How long do I have to wait to drive my car on the pavers after sealing?
A: It takes 48 hours for most sealers to fully cure.
Q: My car dripped oil on my pavers. Can you get it up?
A: Depending on how long it has been on the surface we can shadow it by using the appropriate product for this stain. When sealing the pavers this generally blends right in however when the pavers are first installed the leftovers are left with the homeowner. In cases where oil has been left to sit on the brick for long periods of time, replacing those bricks is the best solution.
Q: How often do I need to reseal my pavers?
A: We recommend a minimum of 18 months prior to resealing. Generally 2-3 years for driveways & pool decks depending on conditions and wear.
Q: I had my pavers sealed a few months ago, but now there's a white cloudy film on the surface. Can this be fixed?
A: This condition is usually a result of improper application with either the sealer failing or a build-up of sealer on the surface. Generally the sealer needs to be restored by stripping it and starting over.
Get A Free Estimate For Paver Sealing