Affordable Roof Washing Service in West Melbourne, FL
Yes indeed, your roof can be cleaned! Simple Washing supplies soft wash roof washing, that is the most effective and safe method to wash any spots, grime, or mold off your roofing.
Soft washing will not harm any landscape design around your property, and it's 100% effective at getting rid of bothersome discolorations from your rooftop. The soft washing methods requires making use of softer water pressure that essentially melts off any stains by utilizing the right solvents and the ideal soaking time.
The Simple Washing soft wash roof cleaning technique is totally approved by all tile manufactures and is suggested by all insurer. It is moreover recognized as general maintenance of your building. Increase the resale value of your home and increase the life-span of your roofing all at once.
Roof Cleaning Service in West Melbourne, FL
No matter if your roofing has lots of filth and debris, or you have a major pigeon situation and want to remove bird waste from your roofing immediately, you can count on Simple Washing to clean your rooftop in West Melbourne! We are West Melbourne, FL's roof cleaning company of choice. We clean hundreds of rooftops a year in West Melbourne. Our seasoned specialists choose safe low pressure soft washing strategies to get rid of bird waste and mud from roofing in the West Melbourne area. There is no roof too large for Simple Washing to clean. Regardless if you own a 1 floor 1000 square foot building or a 3 story 15,000 square foot building we can revitalize your roof today. Our staff are licensed and insured and our experienced service technicians have decades of prior experience. We use low pressure soft washing to guarantee we never damage or endanger your rooftop or building. Give us a call today for a totally free roof cleaning estimate!
People may think pressure washing is the right way to clean your roof but it is far from it. Soft Washing is a technique we use that utilizes cleaning agents and low pressure so there is no damage to your roof! Pressure Washing can take years off your roof life and cause leaks. Trusting that an individual knows what they are doing is a main factor  for hiring the right business to clean your roof. We at Simple Washing are certified, licensed, and insured, We also clean over 400 roofs each year!
NO MATTER THE ROOF WE'VE GOT YOU COVERED
Shingle Roof Cleaning
Concrete Tile Roof Cleaning
Metal Roof Cleaning
Clay Tile Roof Cleaning
We Look Forward To Doing Business With You in West Melbourne, FL
Pressure washing services in West Melbourne, FL are one of the most desired services for several homes and workplaces. Nowadays either you wish to have pressure washing in a house or you would like to have pressure washing in a building; all you have to do is to get in touch with our cleaning providers in West Melbourne, FL. With our pressure washing company, not only are we making things look great for homes and business spaces; we are likewise making the houses and buildings last longer by just getting rid of the corrosion that could trigger further damage to your home.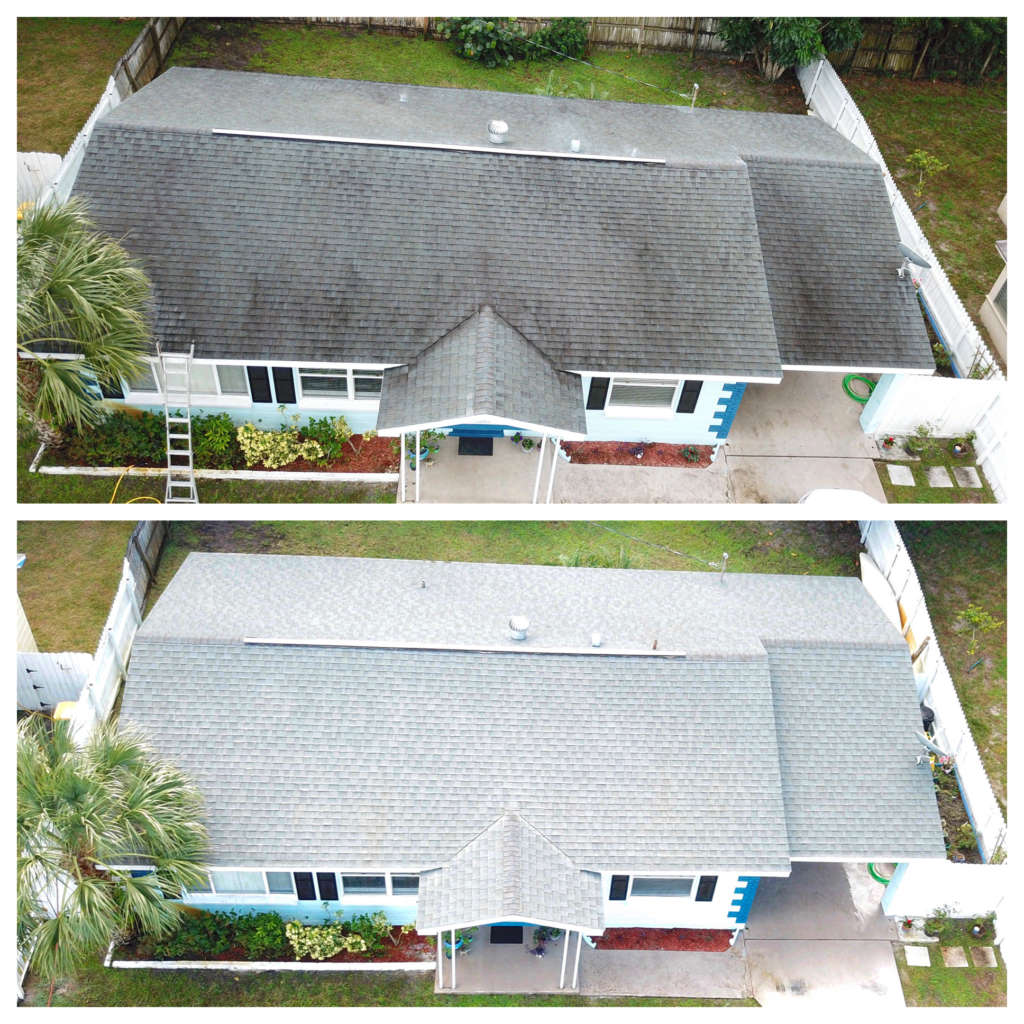 Why Choose Us For Your West Melbourne Roof Washing Needs?
#1 Rated with over 243 5-star reviews on Google
Google Guaranteed
Licensed – Insured – Bonded
100% Satisfaction Guarantee
Environmentally Friendly
All Work Comes With Our Warranty
We Have NEVER Had A Unsatisfied Customer!
Veteran & Family Owned
LOOKING FOR ROOF WASHING SOMEWHERE ELSE?