Affordable Gutter & Soffit Cleaning Service in Melbourne, FL
How often are you cleaning your gutters? Overflowing gutters are the number one cause of water damage and cracked foundations. Failing to maintain the interior and exterior of your gutters can become a costly repair to your home, as build up of algae and bacteria is inevitable. Simple Washing of Melbourne, FL offers gutter cleaning schedules that work with your schedule and your budget. Never worry about whether your gutters are dirty again! With our priority scheduled gutter cleanings you can enjoy our year-round customer care. Leave the worry to us and let Simple Washing make your home shine! Our gutter cleaning services are available in Melbourne and the surrounding areas. Keeping the exterior of your gutters and soffits cleaned not only keeps algae and mold off of them, it also increases the curb appeal of your home or business, which can increase it's value if you ever decide to sell. We'd love to help you give your property that extra shine it deserves. Why Gutter Cleaning? Gutter systems are designed to control the flow of water away from your home, preventing a list of problems. Here are the 5 most common issues that can occur due to clogged gutters. Cracked Foundations – When water is allowed to settle around your home's foundation it causes several problems that could easily be avoided by scheduling regular cleanings, one of which is cracks to foundation walls. Insect breeding ground – Free standing water and debris filled gutters are a paradise for several species of insects. Mosquitos, wood destroying insects, wasps, and even termites can live inside your gutters and find their way into your home. Rotten Wood – The result of moisture being trapped and cut off from air circulating to dry out the wood fascia around the house can destroy your home. The rotted area will quickly worsen if the gutters are not cleaned. Using ladders and walking on roofs can be dangerous if you're not equipped with the right equipment. Gutter cleaning by Simple Washing will guarantee you clean and free flowing gutters. Call us today for service and get clean gutters done by a fully insured professional. Ask about our maintenance programs. Don't be left with high repair bills or collapsing gutters. Call us today for a free quote!
We Look Forward To Doing Business With You in Melbourne, FL
, if you own a business or a home company are two organisation you can house to maintaining it.2 You can be reactive, and make repairs when needed. Or, you can be proactive and try to prevent those repairs from being required. Being reactive is oftentimes more pricey because fixing something is generally a lot more costly than maintaining it. Among the simplest and most cost-effective ways you can safeguard your property is to have it pressure washed by a professional frequently. Pressure washing is cost-effective, and it keeps mold, mud, mildew, algae, and other environmental pollutants from destroying your property. If you respect your home or company, then give us a phone call today so we can arrange a pressure washing consultation for you.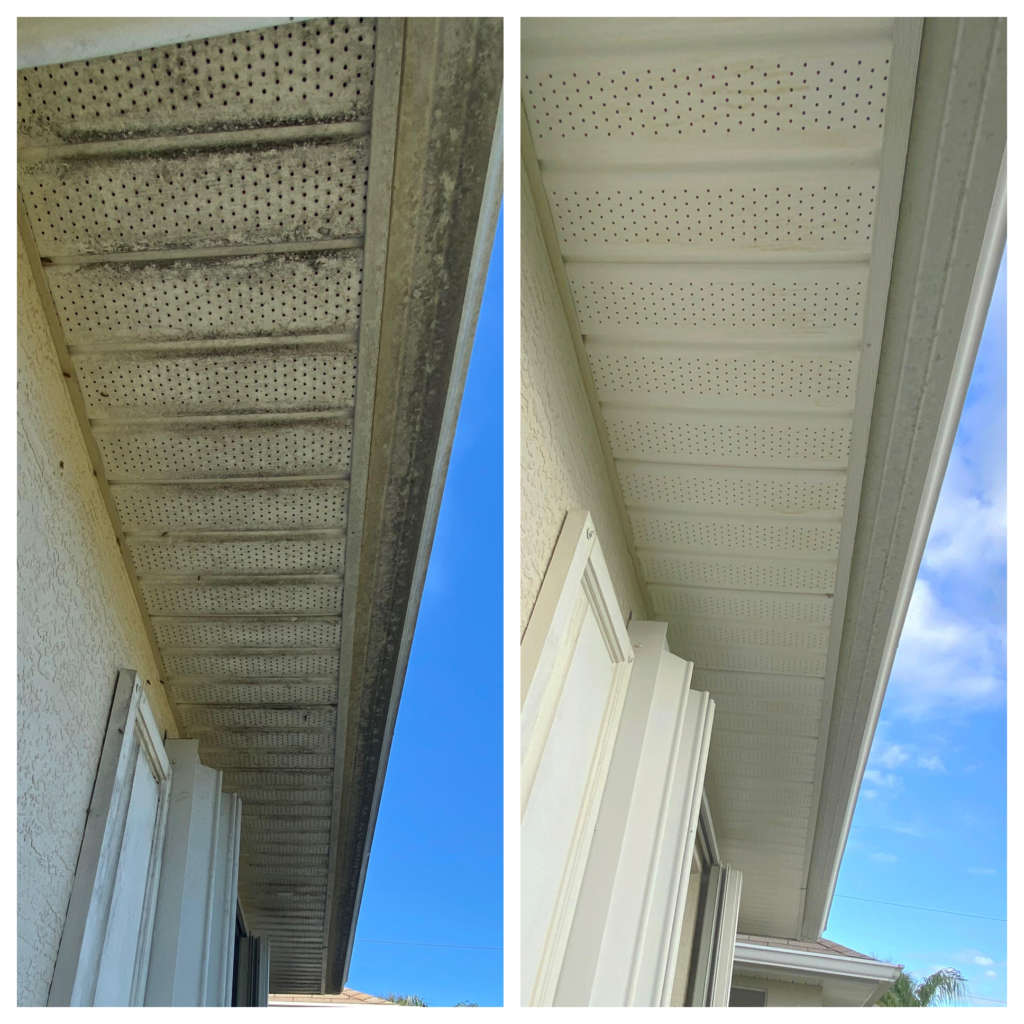 Why Choose Us For Your Melbourne Gutter & Soffit Cleaning Needs?
#1 Rated with over 230 5-star reviews on Google
Google Guaranteed Certified
Licensed – Insured – Bonded
100% Satisfaction Guarantee
Environmentally Friendly
All Work Comes With Our Warranty
We Have NEVER Had A Unsatisfied Customer!
Veteran & Family Owned
LOOKING FOR GUTTER & SOFFIT CLEANING SOMEWHERE ELSE?