Affordable Roof Washing Service in Valkaria, FL
Did you realize that your rooftop is among the most critical parts of your property? Just think of all of the abuse that your rooftop puts up with. When it rains or snows it safeguards your house and keeps it completely dry. The roof of your residence is the primary line of defense that you possess, that is why it's essential to keep it in exceptional shape. Depending on the form of rooftop that you own, it will last you anywhere from 20 to 100 years . However,, if you don't take care of your rooftop by having it cleaned up by a pro on a regular basis, you may significantly lessen the life of your roofing. Anyone that has ever had to shell out to get their roofing replaced will certainly tell you that it can get really expensive rather quickly.
Rather than neglecting your roof and essentially shortening its lifespan, why not be proactive and get it cleaned up on a consistent basis by a specialist so it will endure as long as possible? When you don't wash your rooftop on a consistent basis mold, grime, and other impurities can build up on it, ravaging it. Nevertheless you can stop that from happening by simply being proactive and hiring an expert to pressure wash it consistently.
People may think pressure washing is the right way to clean your roof but it is far from it. Soft Washing is a technique we use that utilizes cleaning agents and low pressure so there is no damage to your roof! Pressure Washing can take years off your roof life and cause leaks. Trusting that an individual knows what they are doing is a main factor  for hiring the right business to clean your roof. We at Simple Washing are certified, licensed, and insured, We also clean over 400 roofs each year!
NO MATTER THE ROOF WE'VE GOT YOU COVERED
Shingle Roof Cleaning
Concrete Tile Roof Cleaning
Metal Roof Cleaning
Clay Tile Roof Cleaning
We Look Forward To Doing Business With You in Valkaria, FL
If you own a home or a company there are a pair of methods you may take to taking care of it. You can be reactive, and make repairs when required. Or, you can be proactive and try to avoid those repairs from being required. Being reactive is normally more expensive since fixing something is almost always far more pricey than taking care of it. Among the most convenient and most cost-effective ways you can safeguard your residential or commercial property is to have it pressure washed by a professional routinely. Pressure washing is economical, and it keeps mold, dust, mildew, algae, and other environmental impurities from wrecking your property. Give us a ring today so we can schedule a pressure washing session for you if you care about your house or company.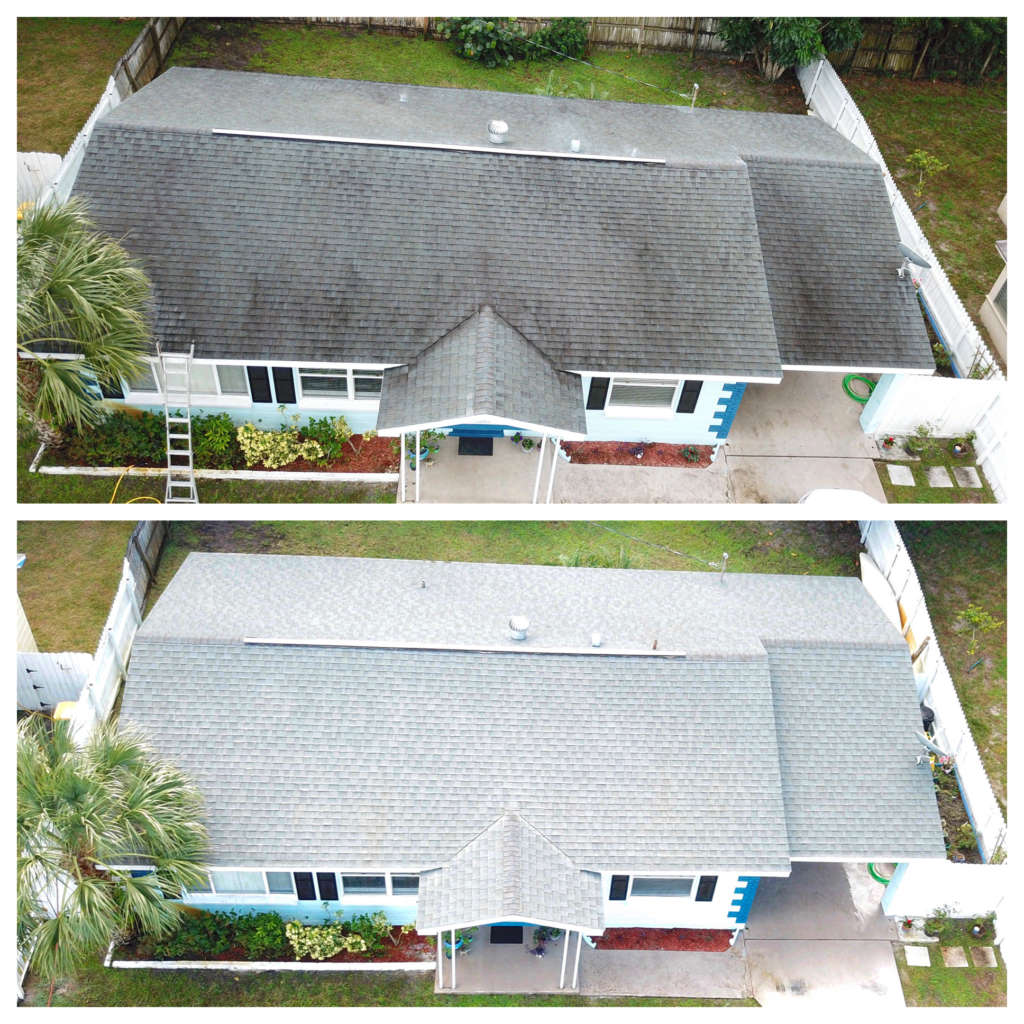 Why Choose Us For Your Valkaria Roof Washing Needs?
#1 Rated with over 243 5-star reviews on Google
Google Guaranteed
Licensed – Insured – Bonded
100% Satisfaction Guarantee
Environmentally Friendly
All Work Comes With Our Warranty
We Have NEVER Had A Unsatisfied Customer!
Veteran & Family Owned
LOOKING FOR ROOF WASHING SOMEWHERE ELSE?