Affordable Roof Washing Service in Cocoa, FL
Is your roofing giving off the best impression about your house or company? Do not let a mossy, moldy rooftop make you embarrassed to have guests over or scare off patrons!
Simple Washing proudly provides roof cleaning options that will keep your assets gorgeous, resilient, and safe. We appreciate how imperative your roofing is to the appearance and quality of your house, we protect its long life using our leading pressure washing solution.
Our Roof Cleaning Strategy:.
Any roofing cleaning service is a balancing act. You want to eliminate mold, mildew, dirt, algae and other buildup. You furthermore need to do it in such a way that will not jeopardize the quality of your roof shingles.
Cocoa, FL Soft Wash Roof Cleaning Gets The Job Done.
This solution utilizes really low water pressures and unrivalled washing solvents to gently eliminate any gunk, discoloration from your roofing without subjecting it to force. With soft washing, our crew can take the detail-oriented strategy required to revive your roof to a "like new" condition.
Perks Of Our Roof Cleaning Service In Cocoa.
When you go with Simple Washing for your roof cleaning necessities, you aren't simply obtaining short-term gains, you're additionally making a long-term financial investment.
• A Longer Lasting Rooftop: If entrusted to its own devices, mold and mildew will wear away at the building material that forms your shingles. Our solution gets rid of the demand for early repairs and replacements and may increase the lifespan of your roofing by as much as a decade.
• Curb Appeal: A lovely home or organization starts from the top. Your building will look cleaner and tidier with a clean roof finishing the appearance. Bid farewell to those nasty black streaks!
• Improved Wellness: Roof build up isn't merely an eyesore, but in addition presents a health risk. Our experts hinder mold and mildew from proliferating into your building so your whole family can relax.
Your rooftop ought to give you numerous things like warmth, convenience, and sanctuary from the weather. However, it should never give you a headache.
Simple Washing is proud to offer the residential and commercial roof cleaning service you desire to keep this vital part of your home lovely and long-lasting!
People may think pressure washing is the right way to clean your roof but it is far from it. Soft Washing is a technique we use that utilizes cleaning agents and low pressure so there is no damage to your roof! Pressure Washing can take years off your roof life and cause leaks. Trusting that an individual knows what they are doing is a main factor  for hiring the right business to clean your roof. We at Simple Washing are certified, licensed, and insured, We also clean over 400 roofs each year!
NO MATTER THE ROOF WE'VE GOT YOU COVERED
Shingle Roof Cleaning
Concrete Tile Roof Cleaning
Metal Roof Cleaning
Clay Tile Roof Cleaning
We Look Forward To Doing Business With You in Cocoa, FL
There's no greater approach to clean wood, vinyl, concrete and even metallic structures than with pressure washing from Simple Washing. If you are unsure whether you require pressure washing for your house, simply ask and we may amaze you with some well done before and after images from previous work so you can observe just how vital it is to get regular pressure washing done to your home.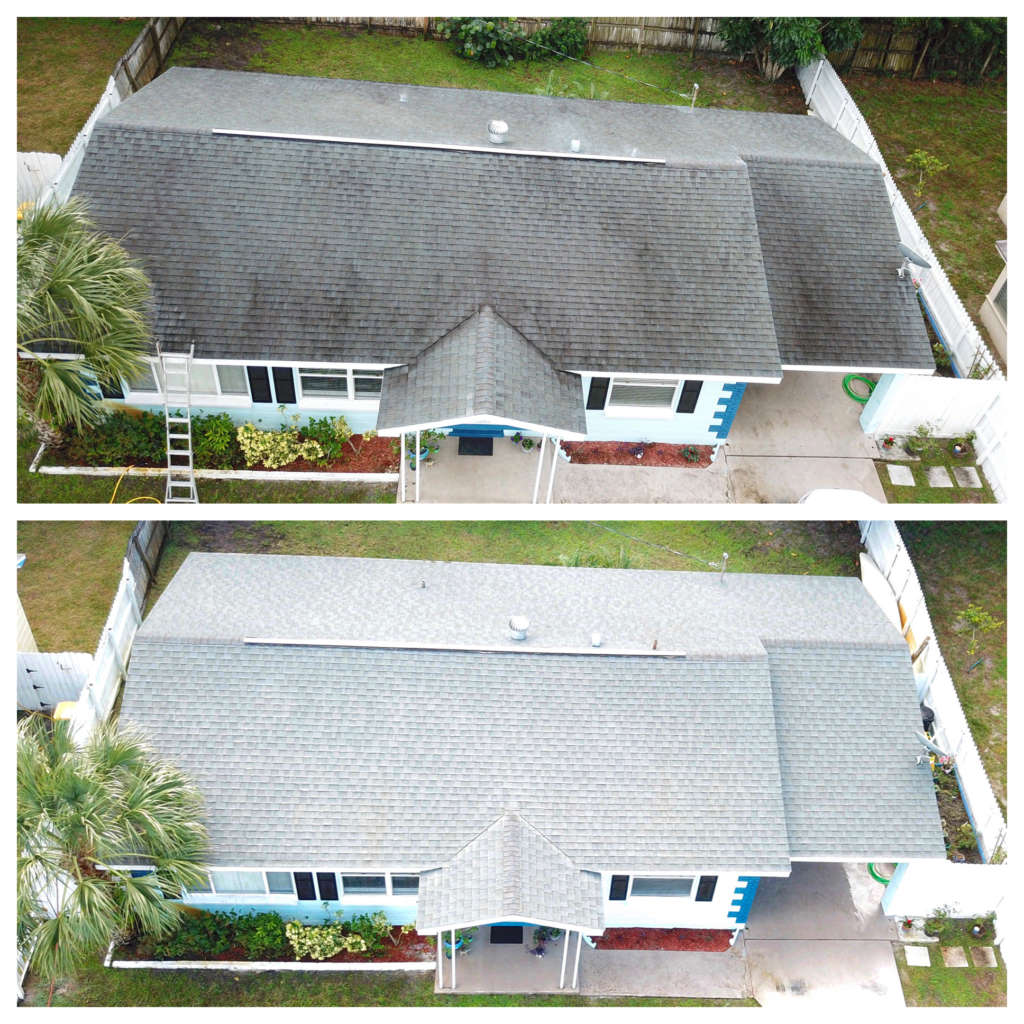 Why Choose Us For Your Cocoa Roof Washing Needs?
#1 Rated with over 243 5-star reviews on Google
Google Guaranteed
Licensed – Insured – Bonded
100% Satisfaction Guarantee
Environmentally Friendly
All Work Comes With Our Warranty
We Have NEVER Had A Unsatisfied Customer!
Veteran & Family Owned
LOOKING FOR ROOF WASHING SOMEWHERE ELSE?