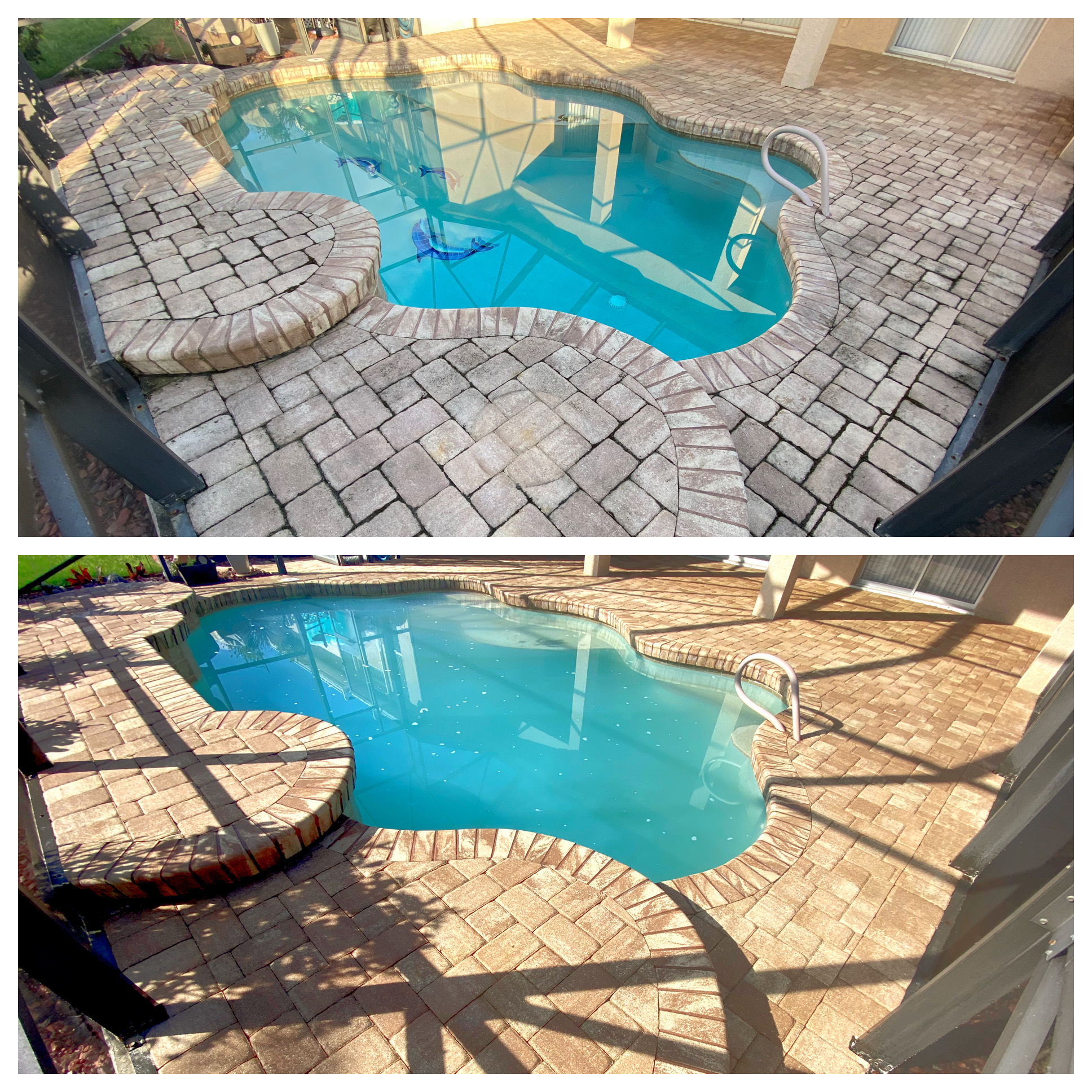 Why Choose Simple Washing For Your Palm Bay Pool Deck & Patio Washing Needs?
Regular professional pressure washing of your home's pool deck and patio is essential to it's longevity, even if you clean the deck yourself on a consistent basis. Homes in tropical areas or near any beachfront may especially need professional pressure washing more often than others. Some of the reasons you may want to consider professional pressure washing on a regular routine especially for homes in tropical areas:
Sand, silt, grit, bacteria and algae gets inside and grows at a rapid rate in Florida because of the moisture and humidity levels, this material get ground into the pits and pores of the surfaces and are difficult to extract with everyday cleaning tools and detergents. This gritty residue can etch away at concrete and stone, leading to cracks, chips, and other damage, and creating a slick and unsafe walking surface.
A simple bleach mixture may not sufficiently wash chlorine and other pool chemicals from the surface. These chemicals can dry out your home's pool deck, making it brittle and prone to cracking. Chlorine and pool chemicals can also dry out painted concrete, leading to peeling and chipping.
Overuse of certain chemicals can be harmful to many surfaces and to sealants and other coatings. A soft wash cleaning system or other effective yet gentle process used by a professional power washer such as Simple Cleaning ensures that your deck and pool are clean and damage-free.
A professional pool deck cleaning contractor can also note any spots and stains that you cannot remove with over-the-counter chemicals and cleansers. Professional pool deck cleaners often have access to specialty surfactants and other detergents that quickly and easily remove rust, food stains, paint splotches, and other areas of damage from your pool deck.
What Is the Best Way to Clean Your Palm Bay Pool Deck?
A concrete pool deck is not necessarily as dense and solid as you might expect. Concrete has many pits and pores along its surface, and is prone to chips, cracks, splits, and other such damage. Patio pavers and outdoor stone tiles are also typically covered in nooks and crannies and may be softer than you assume. Consider why it's important to understand the composition of these materials and why a professional pressure washing company should handle needed exterior concrete cleaning.
Many concrete and stone cleansers sold at hardware and home improvement stores are not strong enough to dissolve thick, caked-on dirt, mud, grime, and other residues, and will not seep into all those pits and pores of concrete and stone. Professional power washing companies use specialty surfactants that soak into all those openings and dissolve the most hardened, thickest dirt and grime.
A professional power washer will be able to identify stains on concrete and patio pavers, including motor oil, rust, paint droplets, and the like. A cleaning professional can then apply specialty detergents and scrub that area as needed, to ensure all traces of that stain are removed, and the pool deck is left clean and pristine!
Cleaning concrete and patio pavers with low-quality brushes result in an inadequate cleaning, whereas heavy-duty brushes might strip paint from concrete or otherwise damage a pool deck. A professional property cleaner will also ensure that all dirt and grime is brushed and cleaned away from your home and lawn properly, to avoid damage and an unsightly mess.
While a garden hose is typically too weak to remove ground-in dirt from all those pits and pores of concrete, too much pressure from a heavy-duty power washer can strip paint and sealant off the pavement and even crack brittle patio pavers.
A pressure washing professional might recommend soft wash systems for cleaning a concrete pool deck. Soft wash systems start with a surfactant that dissolves thick dirt and sand. A low-pressure rinse removes all that residue without damaging concrete paint or sealant or cracking and chipping pavers and stone tiles.
Timber decking requires specialty care. Harsh surfactants can dry wood decks and pool fences, leading to cracks and chips. Improper use of a pressure washer also leaves behind streaks and watermarks. A power washing professional will know the right detergent to use for a thorough clean and to remove mold, algae, and other buildups along a timber deck or pool fence.
Why Choose Us For Your Palm Bay Pool Deck & Patio Washing Needs?
#1 Rated with over 243 5-star reviews on Google
Google Guaranteed
Licensed – Insured – Bonded
100% Satisfaction Guarantee
Environmentally Friendly
All Work Comes With Our Warranty
We Have NEVER Had A Unsatisfied Customer!
Veteran & Family Owned
Common Questions?
How often should you clean your pool deck?
Your property's exterior typically needs cleaning every year; however, stormy weather can deposit layers of sand and grit on a pool deck. Water splashing out of the pool also brings corrosive chlorine and chemicals with it, so have the deck cleaned more often if your pool is in use always.
Will pressure washing damage concrete paint?
Improper use of a high-pressure washer might strip concrete paint, but pool deck cleaning by an experienced professional will remove corrosive residue that damages concrete paint. Proper cleaning can even restore the color of concrete paint or stain.
LOOKING FOR POOL DECK CLEANING SOMEWHERE SPECIFIC?