Affordable Roof Washing Service in Indialantic Beach, FL
Have you spotted some unsightly black spots on your roof? What produces these discolorations? It is Gloeocapsa magma, a type of black algae. The unpleasant news is that it's not just ugly; it is living on the crushed limestone in your roof! Our Indialantic Beach roof cleaning method will remove the algae, prolonging the lifespan of your roof shingles. The black spots moreover soak up heat and moisture content on your roof, which can raise your energy costs!
Our Non-pressure roof cleaning process can remove these black algae stains without harming your delicate tiles. Most roof cleaning providers in Indialantic Beach do not take the effective preventative measures to safeguard your property. NEVER let a roof cleaning business apply high-pressure washing to undertake your roof cleaning in Indialantic Beach. Pressure washing your roof will probably void the warranty. Even those stating that they work with "low pressure" may destroy your roof.
Simple Washing treats the discolorations with an extremely efficient, safe eco-friendly solution, and gently removes the blemish with virtually no pressure. The compounds in our roof washing blend were cautiously chosen to combine to leave an invisible cover that keeps your rooftop cleaner than standard roof washing!
Trust Simple Washing For Indialantic Beach Roof Cleaning
We have completed considerable research on roof cleaning in the Indialantic Beach area to ensure that you will receive the very best possible results, without harm to your roof. Our team take the essential precautions to assure that your landscape will not be damaged by run-off throughout the roof cleaning process. Believe it or not, numerous companies offering roof cleaning in Indialantic Beach do not do that. Our roof cleaning procedure is risk-free for your roof shingles, needing no pressure. Don't take a chance with your rooftop! Contact Simple Washing, the Indialantic Beach roof cleaning professionals for a complimentary quote today!
People may think pressure washing is the right way to clean your roof but it is far from it. Soft Washing is a technique we use that utilizes cleaning agents and low pressure so there is no damage to your roof! Pressure Washing can take years off your roof life and cause leaks. Trusting that an individual knows what they are doing is a main factor  for hiring the right business to clean your roof. We at Simple Washing are certified, licensed, and insured, We also clean over 400 roofs each year!
NO MATTER THE ROOF WE'VE GOT YOU COVERED
Shingle Roof Cleaning
Concrete Tile Roof Cleaning
Metal Roof Cleaning
Clay Tile Roof Cleaning
We Look Forward To Doing Business With You in Indialantic Beach, FL
When you are a home or business owner you can either be proactive when caring for it or reactive. Being proactive indicates taking actions to avoid complications, like choosing us to pressure wash your residential or commercial property. Being reactive means awaiting issues to occur, then attempting to do something about it. , if you choose to be reactive you are going to end up wasting more hard earned money to keep your home.. Pressure washing is practical, economical, and very effective at securing your home or company from environmental pollutants. Then call us today so we can arrange a pressure washing consultation for you, if you are prepared to make the smart move and secure your house or business.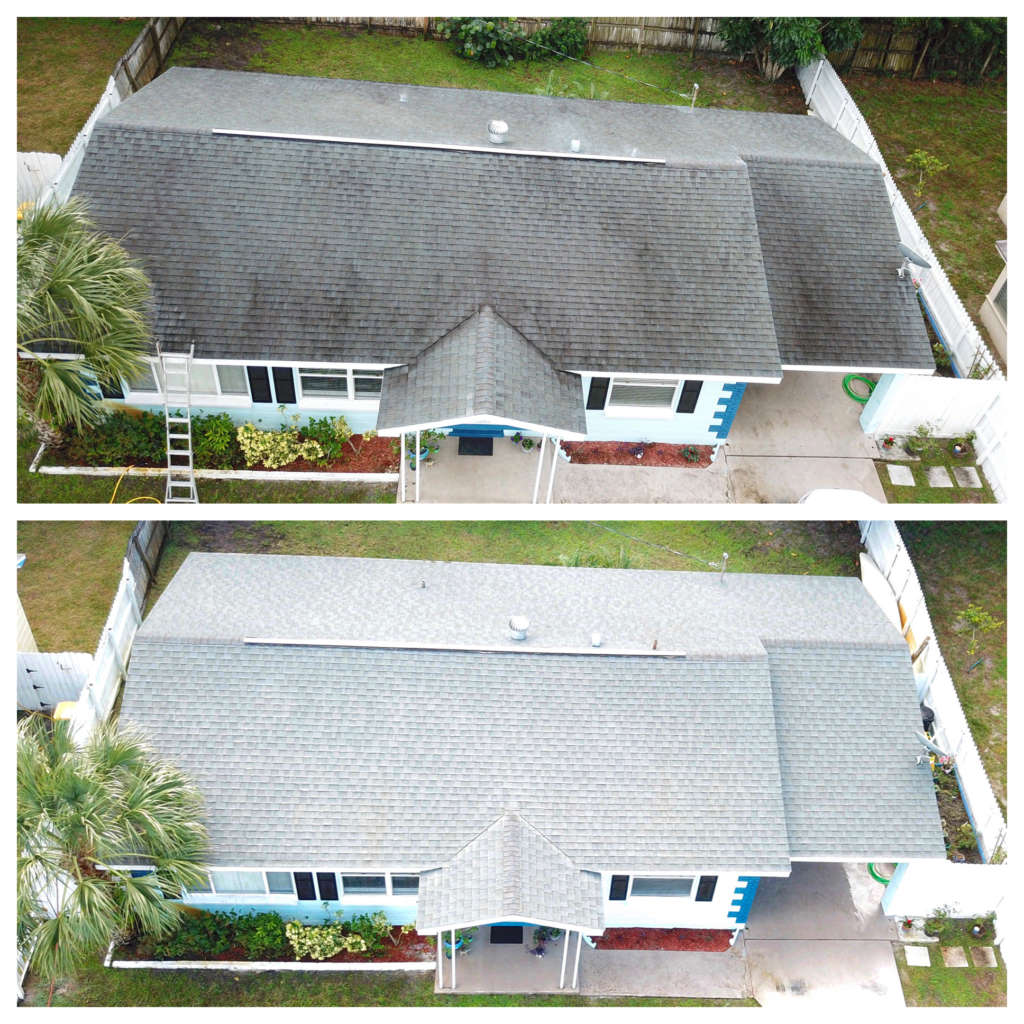 Why Choose Us For Your Indialantic Beach Roof Washing Needs?
#1 Rated with over 243 5-star reviews on Google
Google Guaranteed
Licensed – Insured – Bonded
100% Satisfaction Guarantee
Environmentally Friendly
All Work Comes With Our Warranty
We Have NEVER Had A Unsatisfied Customer!
Veteran & Family Owned
LOOKING FOR ROOF WASHING SOMEWHERE ELSE?