Affordable Roof Washing Service in Palm Bay, FL
Did you know that your roofing is among the most essential parts of your house? Simply take into account all of the abuse that your roofing tolerates. When it rains or snows it covers your residence and keeps it dry. The roofing of your residence is the first line of protection that you possess, which is why it is very important to keep it in great condition. Depending on the type of roofing that you have, it ought to last you anywhere from 20 to 100 years . However, if you do not take care of your rooftop by having it washed by a pro occasionally, you will dramatically shorten the lifespan of your roofing. Everybody that has ever had to pay out to get their roofing replaced will definitely tell you that it can get extremely pricey quite rapidly.
Instead of ignoring your roofing and perhaps shortening its lifespan, why not be proactive and have it cleaned regularly by a pro so it will endure as long as possible? When you do not clean your roofing routinely mold, muck, and other contaminants can accumulate on it, ravaging it. But you can prevent that from happening by merely being proactive and contracting a specialist to pressure wash it on a regular basis.
People may think pressure washing is the right way to clean your roof but it is far from it. Soft Washing is a technique we use that utilizes cleaning agents and low pressure so there is no damage to your roof! Pressure Washing can take years off your roof life and cause leaks. Trusting that an individual knows what they are doing is a main factor  for hiring the right business to clean your roof. We at Simple Washing are certified, licensed, and insured, We also clean over 400 roofs each year!
NO MATTER THE ROOF WE'VE GOT YOU COVERED
Shingle Roof Cleaning
Concrete Tile Roof Cleaning
Metal Roof Cleaning
Clay Tile Roof Cleaning
We Look Forward To Doing Business With You in Palm Bay, FL
"Penny-wise and pound foolish" is a well-worn saying however one that holds rather true today. Make the most of opportunities to save so you can prevent higher expenses later on. Simple Washing has years of experience delivering exterior cleaning services to homes and organizations consisting of residential and industrial pressure washing. We have expanded our organization to service the Palm Bay area. Do not hesitate to call us if you want the finest cleaning services. It goes without stating that a project is most effectively done when performed by professionals!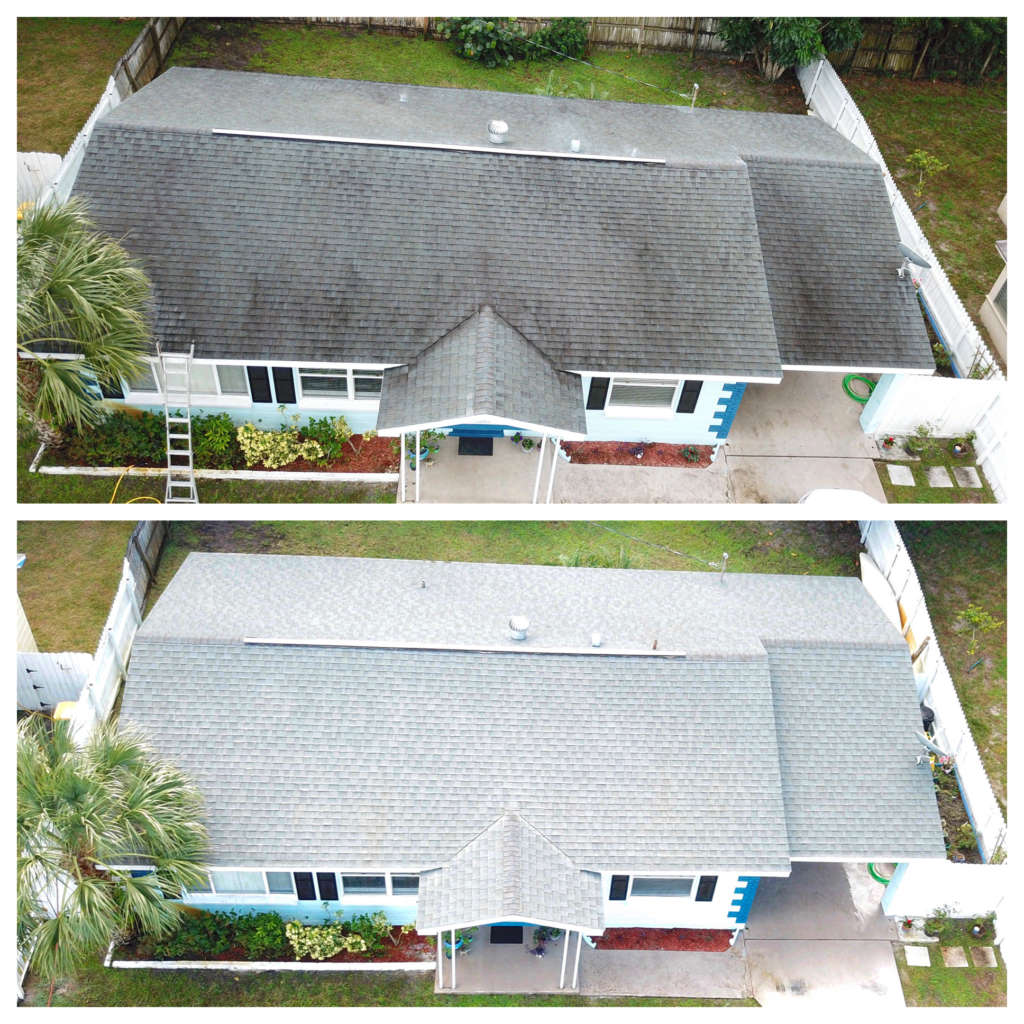 Why Choose Us For Your Palm Bay Roof Washing Needs?
#1 Rated with over 243 5-star reviews on Google
Google Guaranteed
Licensed – Insured – Bonded
100% Satisfaction Guarantee
Environmentally Friendly
All Work Comes With Our Warranty
We Have NEVER Had A Unsatisfied Customer!
Veteran & Family Owned
LOOKING FOR ROOF WASHING SOMEWHERE ELSE?