Affordable Roof Washing Service in Palm Bay, FL
Indeed, your roof is able to be washed! Simple Washing delivers soft wash roof cleaning, that is the most harmless and effective method to clean any discolorations, dirt, or mold off your rooftop.
Soft washing will not harm any landscape design around your property, and it's 100% effective at wiping out unwanted stains from your roof. The soft washing technique demands using softer water pressure that virtually melts off any spots by working with the perfect soaps and the appropriate soaking time.
The Simple Washing soft wash roof cleaning strategy is completely approved by all shingle is and manufactures advised by all insurer. It is furthermore acknowledged as general upkeep of your building. Add to the value of your home and expand the life expectancy of your roof all in one go.
Roof Washing Service in Palm Bay, FL
Regardless if your roof is full of gunk and debris, or you have a critical pigeon issue and want to eliminate bird waste from your roof right now, you can certainly depend on Simple Washing to clean your roof in Palm Bay! We are Palm Bay, FL's roof cleaning service of choice. We wash hundreds of roofs a year in Palm Bay. Our experienced technicians choose risk-free low pressure soft washing techniques to remove bird waste and dirt from roofing in the Palm Bay area. There is no roof too big for Simple Washing to wash. Regardless if you have a 1 floor 1000 square foot property or a 3 floor 15,000 square foot house we can renew your roof today. Our experts are insured and licensed and our trained technicians have years of knowledge. We use low pressure soft washing to ensure we never damage or hurt your roofing or building. Call today for a free roof washing estimate!
People may think pressure washing is the right way to clean your roof but it is far from it. Soft Washing is a technique we use that utilizes cleaning agents and low pressure so there is no damage to your roof! Pressure Washing can take years off your roof life and cause leaks. Trusting that an individual knows what they are doing is a main factor  for hiring the right business to clean your roof. We at Simple Washing are certified, licensed, and insured, We also clean over 400 roofs each year!
NO MATTER THE ROOF WE'VE GOT YOU COVERED
Shingle Roof Cleaning
Concrete Tile Roof Cleaning
Metal Roof Cleaning
Clay Tile Roof Cleaning
We Look Forward To Doing Business With You in Palm Bay, FL
The residents and company owner of Palm Bay recognize all too well simply how hectic their every day lives are. The fast-moving and exceptionally demanding planet we occupy leaves minimal time for anything other than loved ones and their job. As such several crucial elements of cleanliness are frequently neglected or ignored. Given that a tidy home imparts warmth and curb appeal. A well-maintained business building will help your local business to appear competent as well as provide staff members, guests, and associates the best impression.With no offered time and energy for routine and extensive maintenance. What can one do? For the majority of companies and property owners, a tidy home location or building is essential even when you do not wish to dedicate your cash and time to such tasks.This is where we come in as expert pressure washers. Our cleaning professionals take advantage of high powered industrial-strength instruments that will leave your structure's surfaces shimmering. We will eliminate gunk, oils, embedded debris, and mold from all manners of surfaces around your house or business structure. Our Competent pressure washing crews can return sheen and appeal to neglected or outdated houses while we will keep your business looking professional and magnificent. Hiring our professionals will save you lots of cash, time as well as headaches.Perks of our Efficient Pressure washing local business in Palm Bay, FL include: We will employ the appropriate instruments for the task, We have the understanding to change water pressure based upon materials, We have the knowledge to utilize the instruments the right way, We have the ability to work with a hot water pressure washer when required and there will be a smaller chance of injuries or property damage.We understand that there exist numerous pressure washing business that you can pick from. Contact us, we will provide you a reason to count on our business with the significant project of cleaning your exterior surface areas. You can pick our expert pressure washing business for all your business and residential pressure washing requirements. We will offer the greatest quality service for competitive prices with outstanding customer care. This sets us ahead of all the other pressure washing companies around Palm Bay.Besides, we are a locally owned and run business and have a well established existence in Palm Bay. We will be here for the long run with our business and domestic pressure cleaning services. We will work incredibly hard to go beyond your expectations and to gain your trust, your repeat business, and your recommendations.Our credible, dependable, and considerate crew of pressure washers will respectfully treat your exterior surface areas. Contact our competent pressure washing company in Palm Bay, FL today. We will show you how excellent your outside surface areas can look. We will make a terrific improvement. You can visit our website https://www.simplewashing.com for additional information.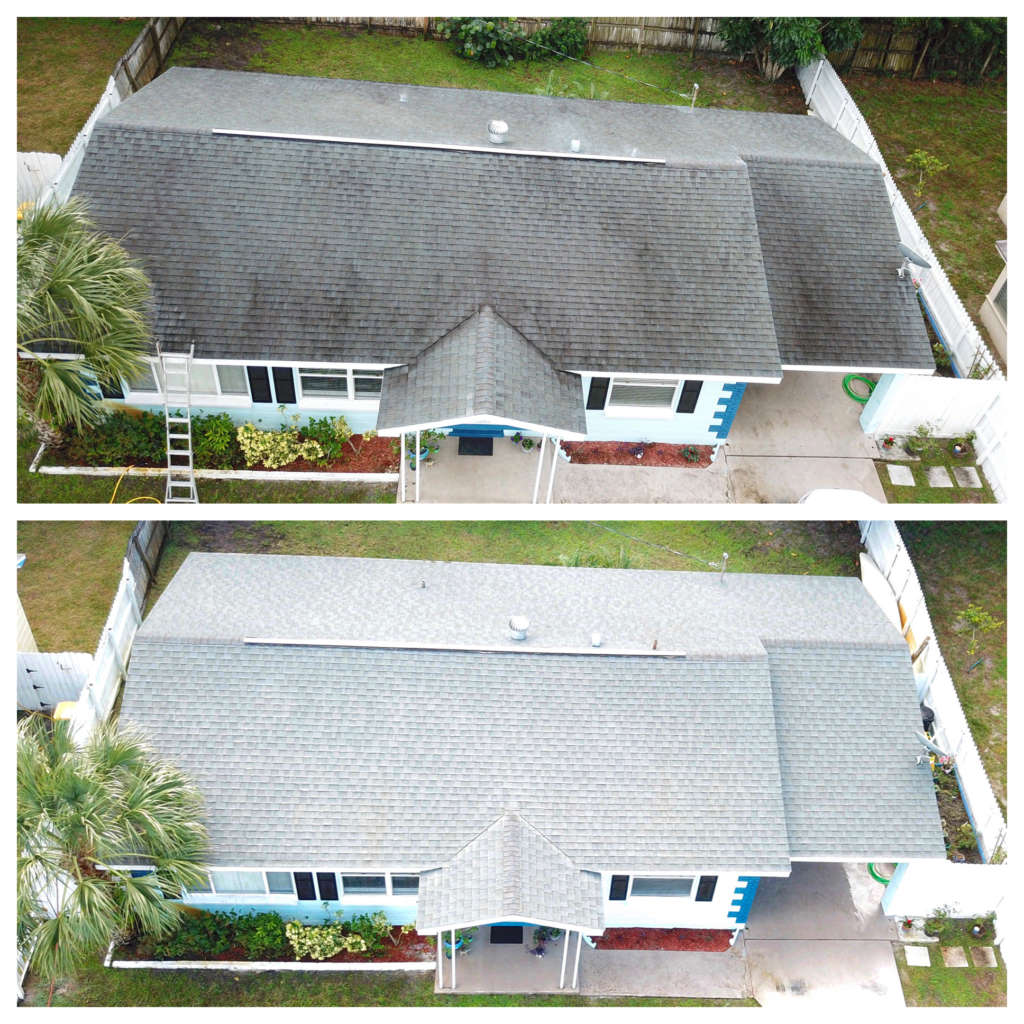 Why Choose Us For Your Palm Bay Roof Washing Needs?
#1 Rated with over 243 5-star reviews on Google
Google Guaranteed
Licensed – Insured – Bonded
100% Satisfaction Guarantee
Environmentally Friendly
All Work Comes With Our Warranty
We Have NEVER Had A Unsatisfied Customer!
Veteran & Family Owned
LOOKING FOR ROOF WASHING SOMEWHERE ELSE?