Affordable Roof Washing Service in Palm Bay, FL
At Simple Washing, we specialize in furnishing our valued consumers with the most effective roof cleaning solution in Palm Bay, FL. From our professional roof washing tactics to our superior customer support, our clients admit we're the # 1 selection for swift, economical and trusted roof cleaning.
Why our clients choose Simple Washing time and time again for professional roof Cleaning?
• We recognize that contracting a roof washing service can be a nuisance for you. That's why our professional service technicians will work with you to figure out a roof washing schedule that fits your agenda– not vice versa!
• We take advantage of state-of-the-art devices to provide you with the very best in expert roof washing.
• We're totally licensed and insured, so you can feel confident that you'll have the greatest roof washing experience feasible at a cost you can manage.
So, What's Causing You To Require Roof Cleaning?
The dark roofing discolorations that makes your building look used and weathered are brought on by algae and fungi actively thriving. In time algae and fungi eat away the natural parts of your shingles or tiles, taking decades from the life of your roofing while additionally making it ugly while doing so. Due to the fact that of moisture retention and reflective reduction resulting in heat accumulation, it can also impact your energy cost. When it rains, algae spores will wash down from the roof eventually spreading spots to your gutter systems, brick, and painted areas too.
What Will It Cost?
Roof Cleaning jobs are commonly estimated by the square foot and shingle style. Having said that, the size of the task, roof pitch, landscaping and overall seriousness of the spots are additionally aspects that can determine the total fee. The most ideal method to get the most precise roof cleaning estimate is to give us a call.
People may think pressure washing is the right way to clean your roof but it is far from it. Soft Washing is a technique we use that utilizes cleaning agents and low pressure so there is no damage to your roof! Pressure Washing can take years off your roof life and cause leaks. Trusting that an individual knows what they are doing is a main factor  for hiring the right business to clean your roof. We at Simple Washing are certified, licensed, and insured, We also clean over 400 roofs each year!
NO MATTER THE ROOF WE'VE GOT YOU COVERED
Shingle Roof Cleaning
Concrete Tile Roof Cleaning
Metal Roof Cleaning
Clay Tile Roof Cleaning
We Look Forward To Doing Business With You in Palm Bay, FL
When you own property it's generally more ideal to be proactive and try to prevent difficulties. Being proactive will safeguard your home, and might likewise wind up saving you a lot of hard earned cash on pricey repair bills. When it comes to being proactive, employing us to pressure wash your home occasionally is among the easiest, most affordable, and most effective ways to keep your house looking its best.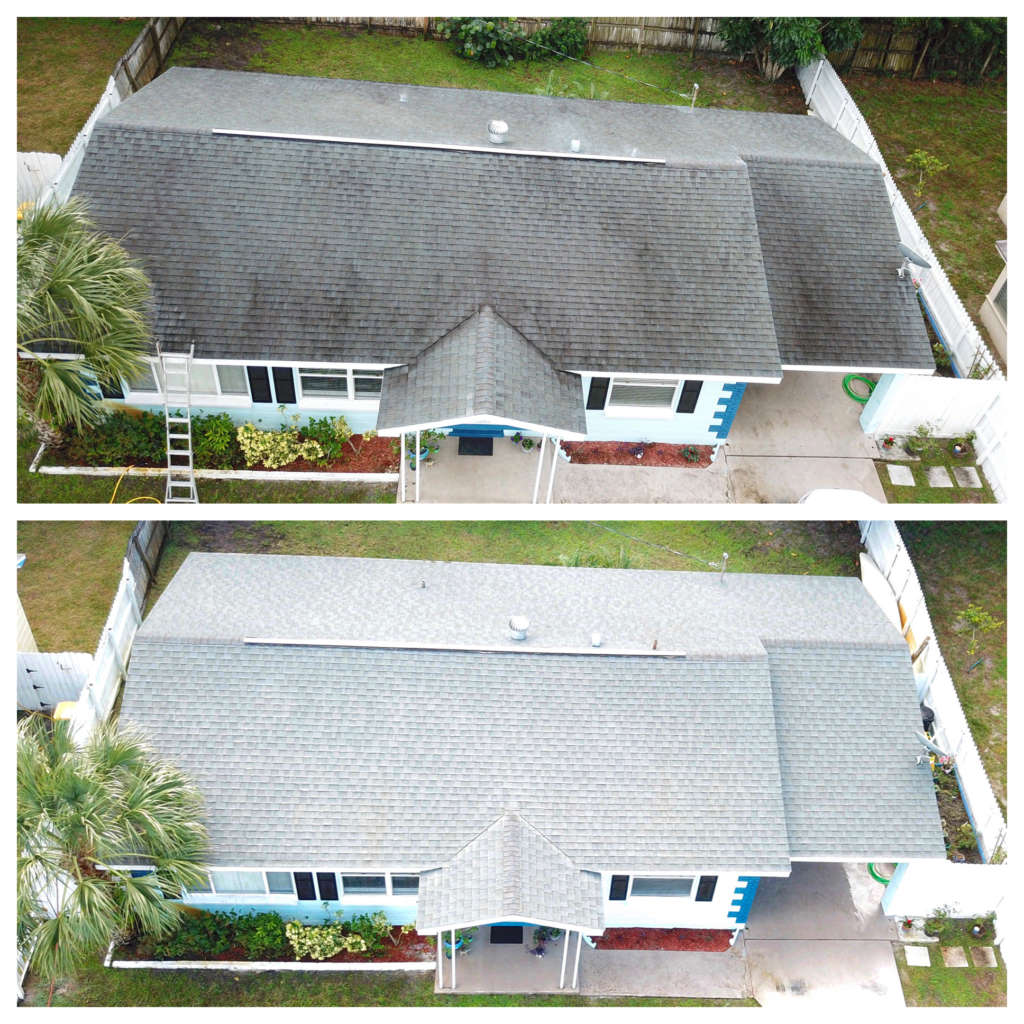 Why Choose Us For Your Palm Bay Roof Washing Needs?
#1 Rated with over 243 5-star reviews on Google
Google Guaranteed
Licensed – Insured – Bonded
100% Satisfaction Guarantee
Environmentally Friendly
All Work Comes With Our Warranty
We Have NEVER Had A Unsatisfied Customer!
Veteran & Family Owned
LOOKING FOR ROOF WASHING SOMEWHERE ELSE?