Affordable Roof Washing Service in Satellite Beach, FL
Fed up with roofing spots ruining your property's charm ? It's time to join the numerous Satellite Beach, FL homeowners who have found the delicate power of our Soft Wash Roof Cleaning service!
Soft Wash Roof Cleaning securely gets rid of undesirable algae, mold, and lichen buildup from your asphalt shingle or slate rooftop. It poses no risk of roofing damage that can arise from high pressure power washing. It's the only way to wash all styles of roofing materials, consisting of Asphalt, Slate, Ceramic Tile, Metal, and Wooden shingles.
Unlike our traditional pressure washing, which makes use of water and compounds to blast the discolorations off of your roofing, our Soft Washing method uses roof manufacturer suggested rooftop cleaning agents administered at Modest Pressure to get rid of unpleasant algae, mold, and lichen buildups at their source.
You receive a much more comprehensive roof cleaning and a longer enduring one, too! The algae and mold inhibitors in our Soft Washing solution stalls the reoccurrence of bothersome algae, mold, and lichen buildup on your roofing. This indicates you will own a stain-free roofing 4 times longer than you will get with regular pressure washing!
And obviously, "low pressure" signifies absolutely no chance of shingle damage. Way too many Satellite Beach, FL region homeowners have discovered the difficult way that high pressure washing and roofing building materials do not mix! Our Soft Wash Roof Cleaning method is 100% safe for all styles of roofs and will not result in damages to your house or landscaping.
People may think pressure washing is the right way to clean your roof but it is far from it. Soft Washing is a technique we use that utilizes cleaning agents and low pressure so there is no damage to your roof! Pressure Washing can take years off your roof life and cause leaks. Trusting that an individual knows what they are doing is a main factor  for hiring the right business to clean your roof. We at Simple Washing are certified, licensed, and insured, We also clean over 400 roofs each year!
NO MATTER THE ROOF WE'VE GOT YOU COVERED
Shingle Roof Cleaning
Concrete Tile Roof Cleaning
Metal Roof Cleaning
Clay Tile Roof Cleaning
We Look Forward To Doing Business With You in Satellite Beach, FL
If you need pressure washing in Satellite Beach Florida then we hope you'll give us a call today. What other service provider around can complete with what we have to provide? We are experienced. We have extremely educated partners that appreciate their work. We have the very best equipments and devices in the business, and we are licensed, bonded, and insured. If you wish to protect your home and avoid debris from developing on it, or mold from wrecking it, then give us a call today!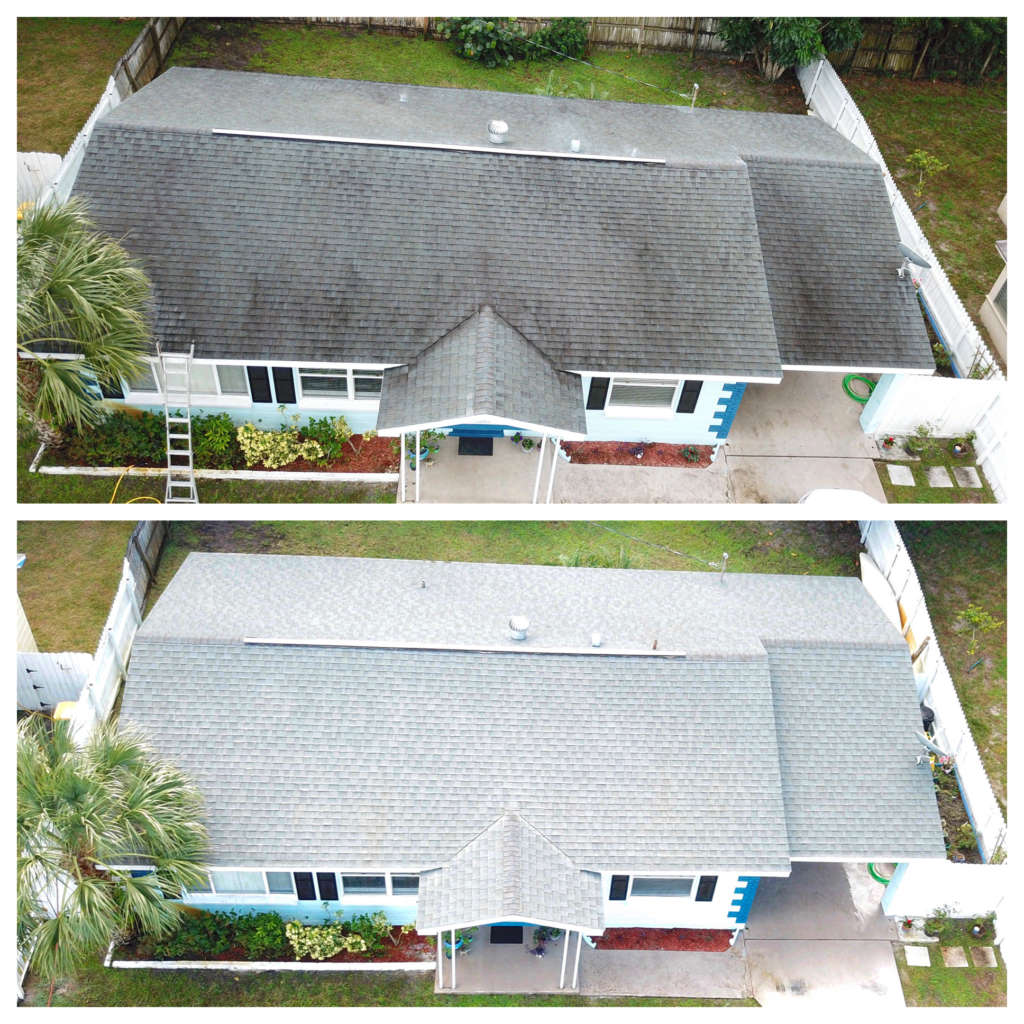 Why Choose Us For Your Satellite Beach Roof Washing Needs?
#1 Rated with over 243 5-star reviews on Google
Google Guaranteed
Licensed – Insured – Bonded
100% Satisfaction Guarantee
Environmentally Friendly
All Work Comes With Our Warranty
We Have NEVER Had A Unsatisfied Customer!
Veteran & Family Owned
LOOKING FOR ROOF WASHING SOMEWHERE ELSE?