Check Out Our Affordable Fence Cleaning Service in Rockledge, FL
Tired of looking at a dirty fence all the time? Over time your fence develops water spots, algae, mold, the color fades, it's not the same beautiful addition to your Rockledge home it once was. So, if your fence is dragging down the appearance of your home Simple Washing is only a phone call away. Our low-pressure soft wash process will renew the look of your fencing in no time, leaving it as clean as the day you got it!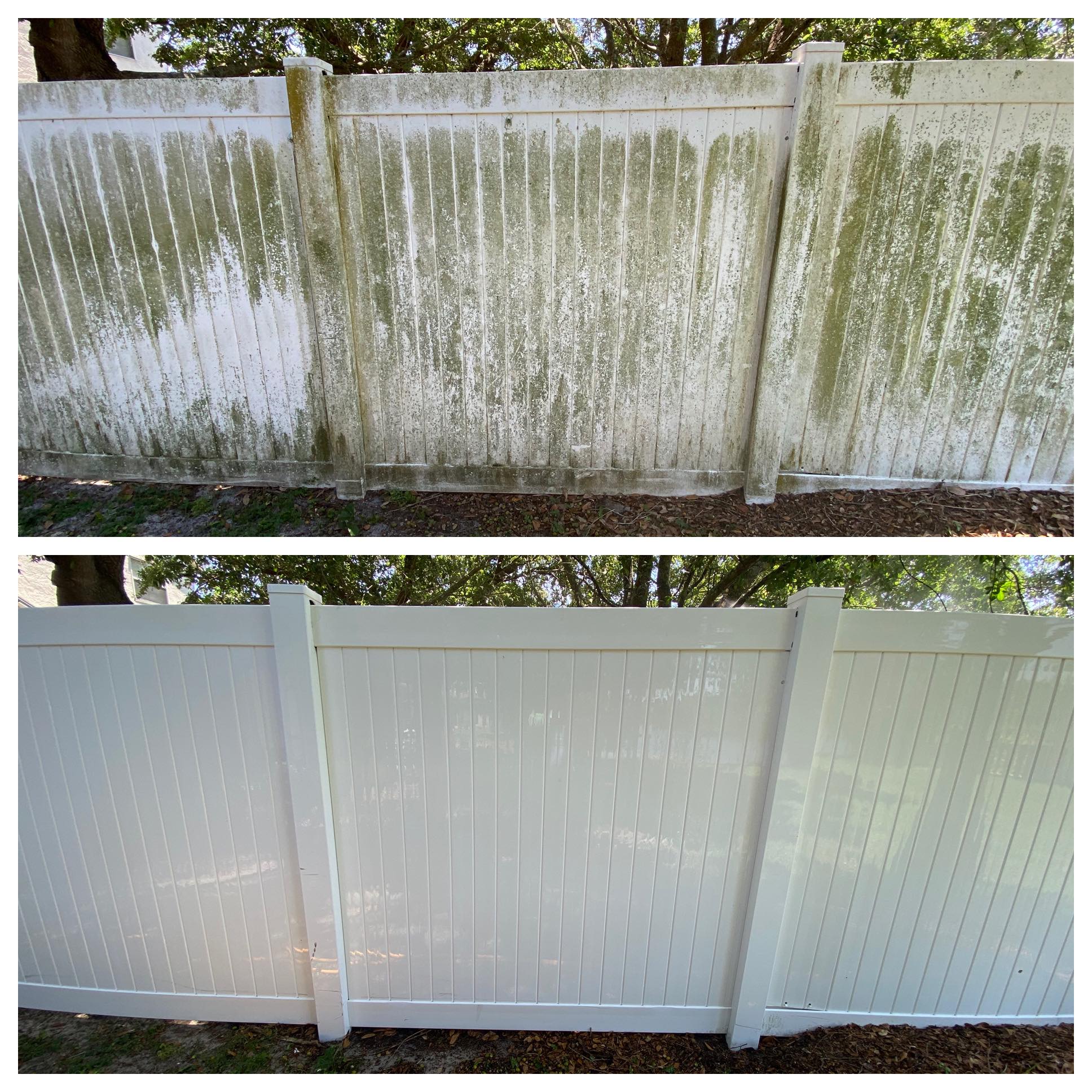 How Often Should You Be Cleaning Your Rockledge Fence?
The answer to this question has a few different answer depending on the type of fence you have.
Annual fence cleaning helps to prolong the lifespan of any fencing material. Proper maintenance really depends on the type of fence you have. A wooden fence should be stained every 2-3 years to preserve the natural look of the wood, and the overall health of the fence.
Wood Fence Cleaning
A wood fence is vulnerable to the sun because it lacks any exterior protection. Most wooden fences are treated with an exterior spray before being sold, that initial treatments wear out within a few months to a year though. Simple Washing can remove the damage done by the sun and get your fence looking as good as new.
Vinyl Fence Cleaning
Pressure washing a vinyl fence is a convenient way to keep your fence looking great all year long. Vinyl fencing is popular with many homeowners because of its weather-resistant as it does not rot or crack like a traditional wooden fence. That being said, a vinyl fence does have one con, its pure white, so it shows dirt stains, grass stains, algae and water stains much easier.
Simple Washing will implement the correct cleaning solutions to remove the buildup of dirt, algae, mold, and water stains. If you don't use the right cleaning solution you could damage the integrity of the fence and your landscaping.
Proper fence cleaning will improve your fence by removing harmful contaminants that degrade the appearance and integrity of your vinyl fence. Simple Washing provides safe and affordable fence cleaning to revitalize your fence!
Call us today for a free quote!
Why Choose Us For Your Rockledge Fence Cleaning Needs?
#1 Rated with over 230 5-star reviews on Google
Google Guaranteed Certified
Licensed – Insured – Bonded
100% Satisfaction Guarantee
Environmentally Friendly
All Work Comes With Our Warranty
We Have NEVER Had A Unsatisfied Customer!
Veteran & Family Owned
LOOKING FOR FENCE CLEANING SOMEWHERE ELSE?