Affordable Roof Washing Service in Melbourne Beach, FL
At Simple Washing, we specialize in providing our valued customers with the most ideal roof cleaning service in Melbourne Beach, FL. From our proficient roof washing techniques to our superior customer support, our customers agree we're the # 1 option for prompt, economical and trustworthy roof cleaning.
Why our clients choose Simple Washing time and time again for professional roof Cleaning?
• We know that working with a roof washing company can be an annoyance for you. That's why our expert specialists will coordinate with you to establish a roof washing schedule that fits your schedule– not vice versa!
• We work with advanced equipment to supply you with the absolute best in professional roof washing.
• We're fully licensed and insured, so you can feel certain that you'll receive the very best roof washing experience possible at a price you can manage.
So, What's Causing You To Require Roof Cleaning?
The dark roofing discolorations that makes your building appear worn and weathered are triggered by algae and fungi actively growing. Over time algae and fungi eat away the organic parts of your tiles or shingles, consuming decades from the lifespan of your rooftop while also making it hideous at the same time. It may also influence your energy cost due to the fact that of moisture retention and reflective loss resulting in heat build-up. When it storms, algae spores will wash down from the roof inevitably spreading out spots to your gutter systems, brick, and painted areas too.
What Will It Cost?
Roof Cleaning projects are normally quoted at the square foot and shingle style. Nevertheless, the size of the project, roofing pitch, landscape and overall intensity of the stains are also aspects that can influence the overall costs. The most reliable means to get the most precise roof cleaning quote is to contact us.
People may think pressure washing is the right way to clean your roof but it is far from it. Soft Washing is a technique we use that utilizes cleaning agents and low pressure so there is no damage to your roof! Pressure Washing can take years off your roof life and cause leaks. Trusting that an individual knows what they are doing is a main factor  for hiring the right business to clean your roof. We at Simple Washing are certified, licensed, and insured, We also clean over 400 roofs each year!
NO MATTER THE ROOF WE'VE GOT YOU COVERED
Shingle Roof Cleaning
Concrete Tile Roof Cleaning
Metal Roof Cleaning
Clay Tile Roof Cleaning
We Look Forward To Doing Business With You in Melbourne Beach, FL
When you own a house or business you can be reactive and have complications fixed once they emerge. This method can get expensive very swiftly. Or, you might be clever and be proactive and help avoid predicaments from emerging in the first place. Pressure washing your house or organization is simple, reliable, and low-cost. Provide us a call today if you desire to secure the market value of your residential or commercial property.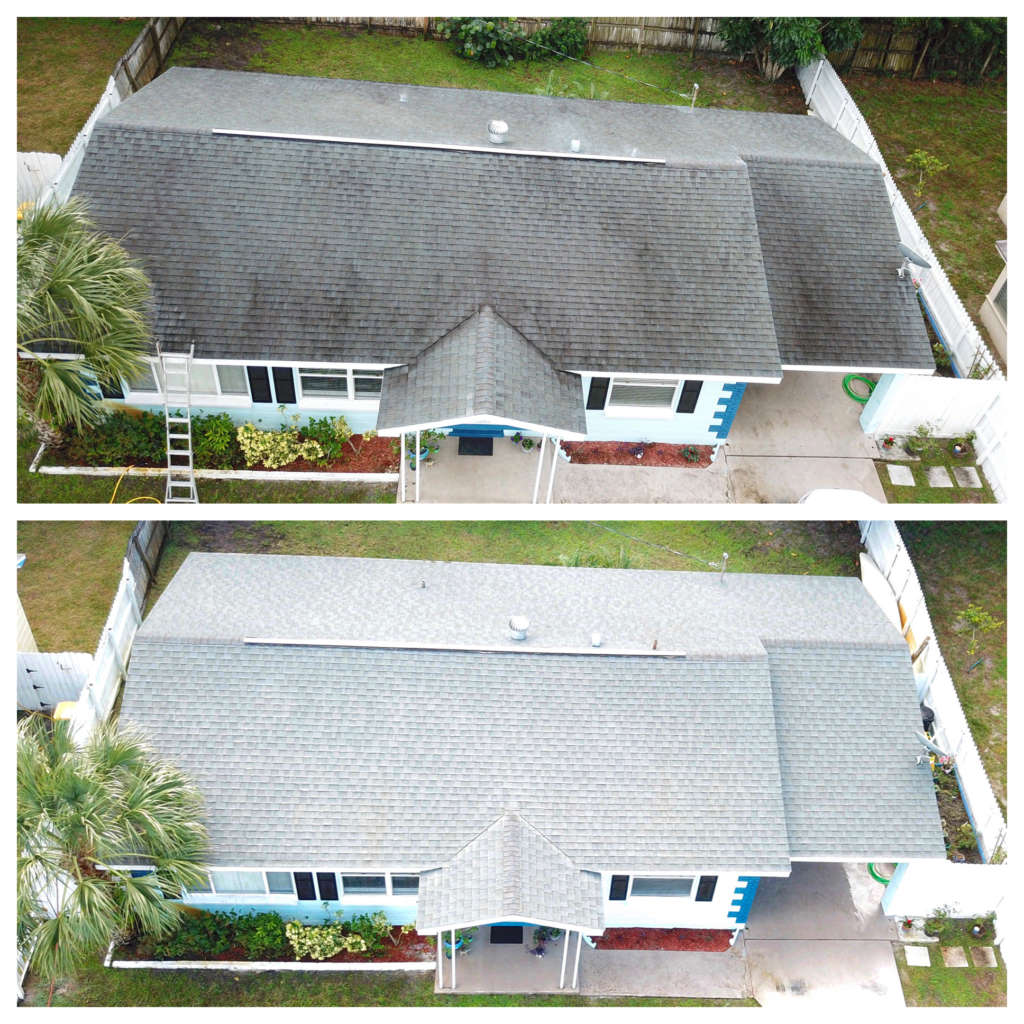 Why Choose Us For Your Melbourne Beach Roof Washing Needs?
#1 Rated with over 243 5-star reviews on Google
Google Guaranteed
Licensed – Insured – Bonded
100% Satisfaction Guarantee
Environmentally Friendly
All Work Comes With Our Warranty
We Have NEVER Had A Unsatisfied Customer!
Veteran & Family Owned
LOOKING FOR ROOF WASHING SOMEWHERE ELSE?