WHY HIRE A PROFESSIONAL PAVER INSTALLER?
Here in the Florida, we're blessed with beautiful weather year round. Having an eye catching outdoor entertainment area is an awesome way to create an inviting atmosphere for your family and friends to come and enjoy the nice weather. These days there are countless shows dedicated to "doing it yourself." While many home projects are fine to DIY, creating a landscape using pavers isn't one of them!
Working with a reputable company such as Simple Washing to design and create your outdoor living space is the right choice. We can help you to create a design that matches your creative vision and help you to choose the perfect concrete pavers to fit your needs and budget. We can provide you with an estimate, and give you a final result that will bring you enjoyment for years to come.
5 REASONS TO HAVE YOUR PAVERS PROFESSIONALLY INSTALLED
CREATING YOUR DESIGN
Imagine the final result as a small step in the process. Do you have the skills to design and sketch your vision correctly? What about ordering the necessary materials and making sure that your idea is going to fit within your budget? Any mistakes you make during the design process can leave you with costs that are much higher than you anticipated. A professional will be able to make a drawing of your creative vision, a list of materials needed, and a specific cost for installation along with a timeline.
QUALITY MATERIALS
While inexpensive pavers at your local home improvement store may look enticing, they're not the same level of materials that are used by a professional. Simple Washing knows how and where to source the best quality materials for your project at an affordable price. Our processes and sources which we have developed over years in business allow us to evaluate any type of surface, formulate a plan and provide the perfect product to meet your needs.
KEEPING YOUR PROJECT ON BUDGET
A paver professional will not only create your design and make sure it fits inside your budget, they will make sure that your project stays on track. They understand the time and materials necessary to produce the final product, how much sand you'll need, the proper size and quantity of materials and the labor necessary to finish your project on time and on budget.
SAVED TIME
If you've never installed concrete pavers before there is a steep learning curve involved. If you're only working on the weekends, it could literally take weeks or even months before you could relax and enjoy your new outdoor space. Working with a professional paver installer ensures that your project is handled promptly and professionally. From the design to installation, Simple Washing will provide you with a schedule for your project that we will stick to. We have the experience and the expertise to get it done quickly, efficiently and on budget!
PROPER PREPARATION AND TOOLS FOR THE JOB
Adequate preparation of the work site is a crucial element to the longevity of your paver project. A professional will have the knowledge and expertise to get the job done right the first time. Preparation is a complicated process. most of the job is site preparation that includes planning and design, excavation, installation of a base layer, compacting that layer, proper installation of textile to prevent weed growth, installation of edge restraints, setting the sand, compacting and leveling, installing the pavers, and finishing the surface. If any one element of the preparation is done incorrectly, your finished result will suffer. A professional will have the tools necessary to do the job, the expertise to provide a high-quality finished product and will stand behind their work if there is a problem.
If you want the job done right, hiring a professional is the only way to go. You'll get the best quality workmanship, the best materials, a professional design and proper installation every time.
#1 Rated with over 244 5-star reviews on Google
Google Guaranteed Certified
Licensed – Insured – Bonded
100% Satisfaction Guarantee
Environmentally Friendly
All Work Comes With Our Warranty
We Have NEVER Had A Unsatisfied Customer!
Veteran & Family Owned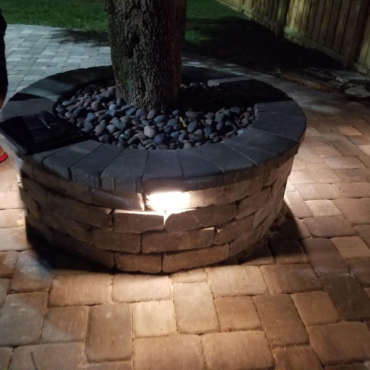 LOOKING FOR PAVER INSTALLATION SOMEWHERE SPECIFIC?