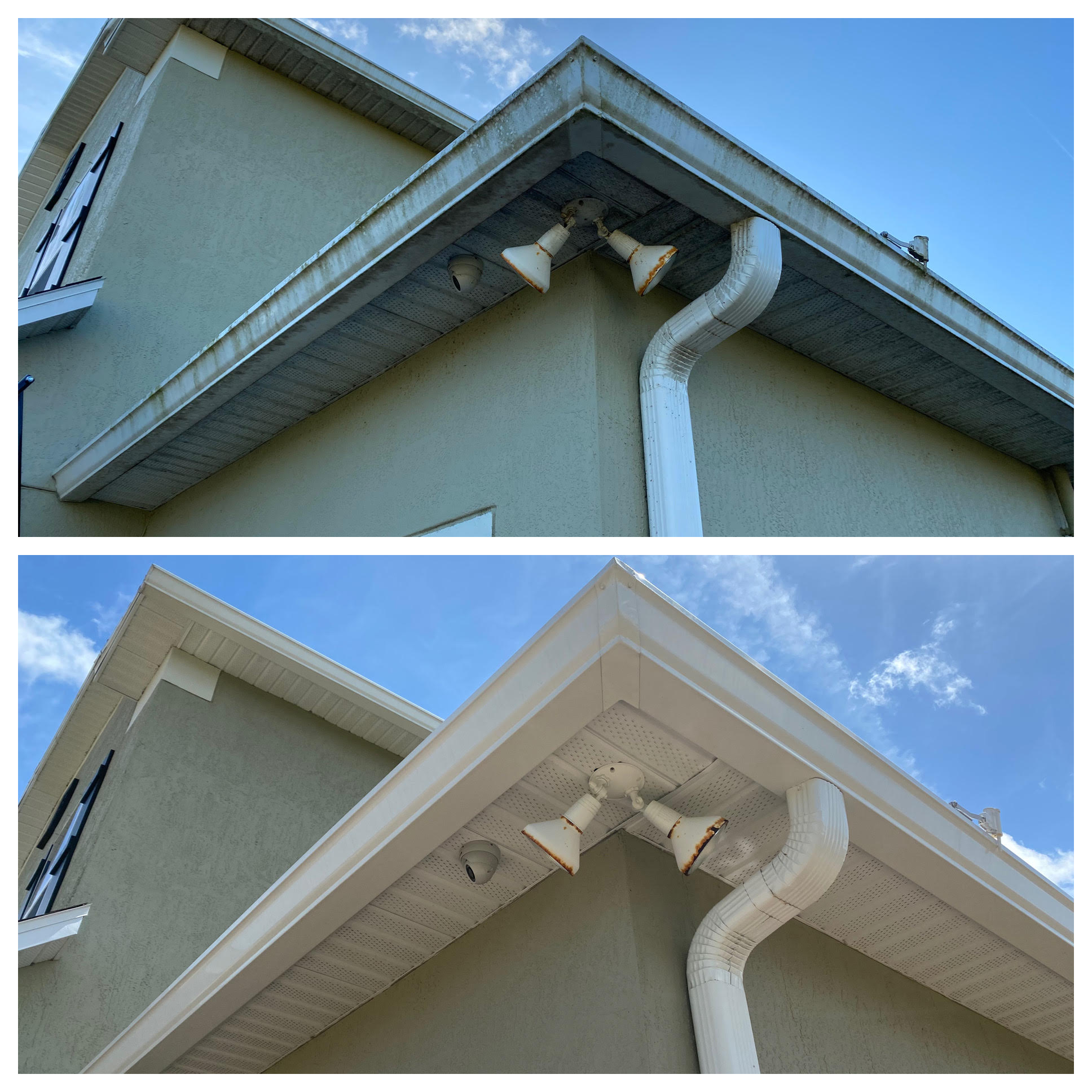 Affordable Gutter & Soffit Cleaning Service in Cocoa, FL
How often are you cleaning your gutters? Overflowing gutters are the number one cause of water damage and cracked foundations. Failing to maintain the interior and exterior of your gutters can become a costly repair to your home, as build up of algae and bacteria is inevitable. Simple Washing of Cocoa, FL offers gutter cleaning schedules that work with your schedule and your budget. Never worry about whether your gutters are dirty again! With our priority scheduled gutter cleanings you can enjoy our year-round customer care. Leave the worry to us and let Simple Washing make your home shine! Our gutter cleaning services are available in Cocoa and the surrounding areas. Keeping the exterior of your gutters and soffits cleaned not only keeps algae and mold off of them, it also increases the curb appeal of your home or business, which can increase it's value if you ever decide to sell. We'd love to help you give your property that extra shine it deserves. Why Gutter Cleaning? Gutter systems are designed to control the flow of water away from your home, preventing a list of problems. Here are the 5 most common issues that can occur due to clogged gutters. Cracked Foundations – When water is allowed to settle around your home's foundation it causes several problems that could easily be avoided by scheduling regular cleanings, one of which is cracks to foundation walls. Insect breeding ground – Free standing water and debris filled gutters are a paradise for several species of insects. Mosquitos, wood destroying insects, wasps, and even termites can live inside your gutters and find their way into your home. Rotten Wood – The result of moisture being trapped and cut off from air circulating to dry out the wood fascia around the house can destroy your home. The rotted area will quickly worsen if the gutters are not cleaned. Using ladders and walking on roofs can be dangerous if you're not equipped with the right equipment. Gutter cleaning by Simple Washing will guarantee you clean and free flowing gutters. Call us today for service and get clean gutters done by a fully insured professional. Ask about our maintenance programs. Don't be left with high repair bills or collapsing gutters. Call us today for a free quote!
We Look Forward To Doing Business With You in Cocoa, FL
The homeowners and company owners of Cocoa know all too well exactly how hectic their lives are. The fast-moving and extraordinarily demanding planet we inhabit leaves very little time for anything aside from relatives and work. Therefore numerous key aspects of tidiness are frequently neglected or ignored. Since a clean house communicates coziness and curb appeal. A well-maintained commercial building will assist your company to appear competent in addition to give workers, guests, and partners the very best impression.With no offered energy and time for regular and detailed cleaning. What can one do? For the majority of local business and homeowners, a tidy dwelling place or structure is essential even if you do not wish to devote your cash and time to such jobs.This is where we arrive as reliable pressure washers. Our cleaning pros take advantage of high strength industrial-strength tools that will leave your structure's surface areas sparkling. We will clear away dust, oils, embedded particles, and mold from all manners of materials around your house or business structure. Our Skilled pressure washing teams can return sheen and luster to neglected or seasoned homes while we will keep your local business looking professional and magnificent. Choosing our professionals will save you lots of hard earned cash, time as well as migraines.Perks of our Competent Pressure washing company in Cocoa, FL consist of: We will work with the right devices for the task, We have the knowledge to alter water pressure based upon materials, We have the know-how to employ the equipment properly, We have the ability to employ a hot water pressure washer when needed and there will be a smaller chance of personal injuries or residential or commercial property damage.We understand that there exist various pressure washing companies that you can pick from. Call us, we will provide you a reason to entrust our business with the essential task of cleaning your outside surfaces. You can pick our reliable pressure washing company for all your business and household pressure washing needs. We will use the greatest quality service for competitive rates with remarkable customer support. This sets us apart from all the other pressure washing companies in and around Cocoa.Besides, we are a local owned and operated company and have a well established existence in Cocoa. We will be here for the long haul with our domestic and industrial pressure cleaning services. We will work exceedingly hard to go beyond your expectations and to obtain your trust, your repeat business, and your recommendations.Our credible, competent, and considerate crew of pressure washers will respectfully treat your outside surfaces. Contact our reliable pressure washing company in Cocoa, FL today. We will show you how excellent your exterior surfaces can appear. We will make a terrific improvement. You can visit our website https://www.simplewashing.com for more info.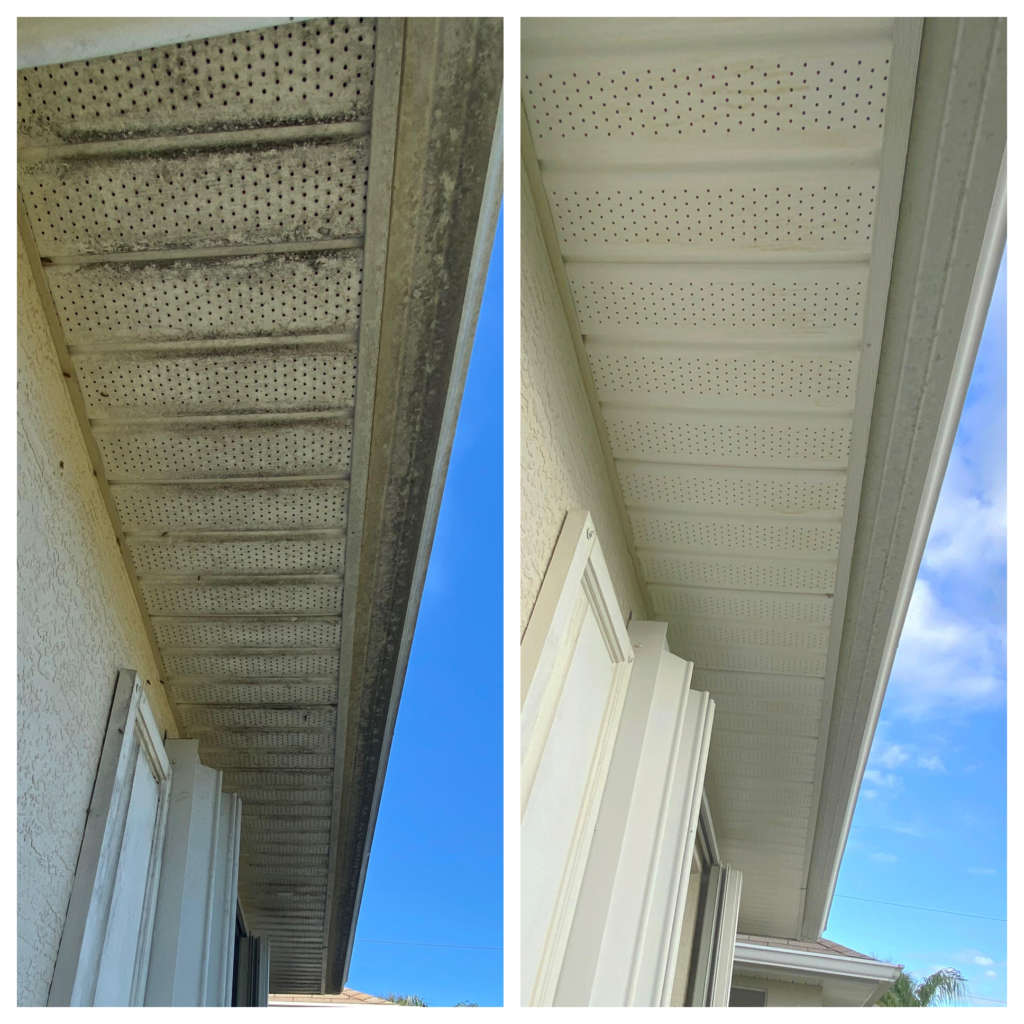 Why Choose Us For Your Cocoa Gutter & Soffit Cleaning Needs?
#1 Rated with over 243 5-star reviews on Google
Google Guaranteed 
Licensed – Insured – Bonded
100% Satisfaction Guarantee
Environmentally Friendly
All Work Comes With Our Warranty
We Have NEVER Had A Unsatisfied Customer!
Veteran & Family Owned
LOOKING FOR GUTTER & SOFFIT CLEANING SOMEWHERE ELSE?