Affordable Pressure Washing Service in Vero Beach, FL
The exterior of your home may not look at its full potential. A professional exterior cleaning could reveal the beauty of your home or business like you've never seen. It's amazing how grime and dirt can affect the appearance of your property sometimes. Take a close look at your exterior walls and structures. Are you wondering how long these parts of your property have gone without a cleaning? Probably longer than you think! Fortunately, Vero Beach, Florida pressure washing is affordable and at your fingertips thanks to Sebastian Simple Washing! See for yourself the difference a professional cleaning can have on your walls, roof, walkways and more! The power of pressure can give your exterior surfaces a sparkling clean that will bring new energy to your property! Grime and dirt can really layer on as time flies – turn back the clock with a professional pressure cleaning service in Sebastian, FL!

There's nothing to fear about the 'pressure' in pressure washing. Our experts are skilled and experienced in Vero Beach, FL pressure washing. They know the steps necessary to avoid damage to your property. If we feel like pressure washing a part of your property will result in avoidable damage, we'll definitely let you know. There's nothing to worry about when you leave the job to experienced professionals! It's a great priority of ours to preserve the state of your home – we just want to clean it and make it better! After our high quality pressure cleaning service in Sebastian, Florida, your property will look amazing! If you're ready to see your home, business or exterior surfaces look their best, it's as simple as calling us to come by!

Residential Roof Pressure Cleaning in Vero Beach, Florida
When was the last time you had your roof cleaned? Folks often forget about their roof until it needs to be replaced every other decade or so. That's no way to treat one of the most important structures of your home! Your roof protects your home overhead and, believe it or not, it makes a big impact on your home's overall appearance. After having Vero Beach, FL pressure cleaning for your roof, you'll definitely notice the difference it makes like you never have before. If you want to make a difference in the appearance of your home or business, have a professional pressure cleaning done today!
Although you don't look at it directly very often, the roof is and important part of your property. Go up and take a look – your roof is probably messier than you may have imagined. Of all areas of the home exterior, the roof is probably the most neglected. Well, you need not live like this any longer! The best pressure washing service in Vero Beach, FL is at your service! No need to worry about your roof's safety – we use a special soft wash technique that definitely won't have your roof tiles flying all over the neighborhood. Trust the work of a Sebastian, FL pressure cleaning professional!
Roof Cleaning
Pool Deck Cleaning
Screen Enclosure Cleaning
Exterior Wall Cleaning
Patio Cleaning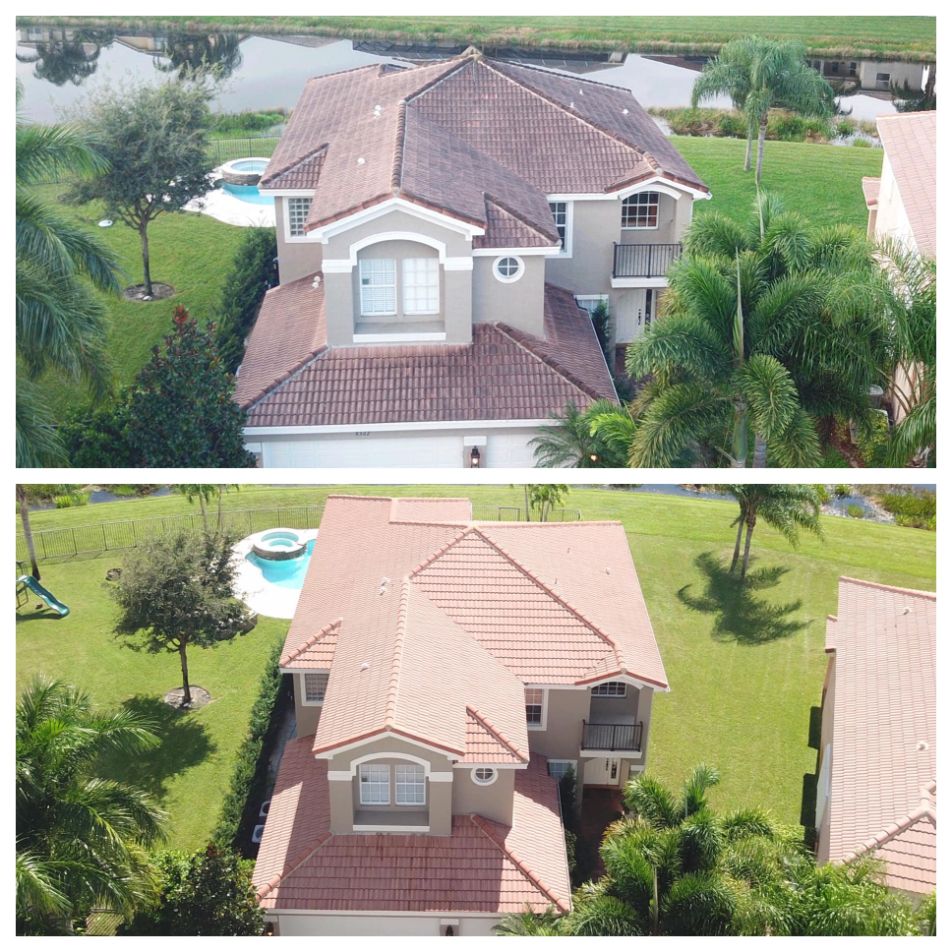 Commercial Pressure Washing in Vero Beach, FL
Pressure washing doesn't only apply to roofs and walls. Ever thought of having your walkways, driveway or sidewalk pressure cleaned? It can make a really big difference in the appearance of your exterior. Sometimes it's all about the details, and you want to put your best foot forward regarding first impressions. Sometimes a good looking building can be undermined just from its age. Getting a professional Vero Beach, FL pressure cleaning on an older home can bring it right up to par with newer looking buildings. Layers of dirt piling up over the years can make a building look much better than it initially appears. 
Getting your exterior surfaces cleaned doesn't have to cost a whole bag of money. Top-quality pressure cleaning in Vero Beach, FL is great AND affordable! By working with our company you can have the best of both worlds with clean surfaces for a great price. Our professionals know how important it is to do quality work, and we're sure that you'll be glad about the end result. Make your property stand out and show everyone how much you care about maintenance. We're the best team for Vero Beach, FL pressure cleaning around, and you'll know it once you experience it yourself! Getting your exterior services cleaned is a great idea for properties you own, ones you're looking to sell, or just for your own home. Call us for a pressure washing in Sebastian, Florida today!